About this guide
Nothing too technical here – mostly best practices for "on-the-page" SEO (aka Content SEO) and some tips to follow when creating a page or post on your WordPress website.
A large part of SEO is developing your website to have optimised content – which helps a search engine (herein called Google) ascertain what your web pages are all about, and then rank these in search results appropriately. SEO can delve deeply into technical aspects – However, when it comes to "Content SEO" – a few easy to follow best practices may give you a good SEO boost.
By structuring the content effectively on your site, you can help search engines understand what your pages and posts are about. – which in turn helps Google show your website to someone searching for a specific thing you offer.
Note: SEO is a very broad and detailed subject, and there's much "off-the-page" SEO to consider (like Social, Authority, Backlinks). And there are many dedicated Blogs and Online Communities relating to the topic; so to dig deeper into SEO – I recommend you start at https://searchengineland.com
What about keywords? Where do I put them?
Quite simply, keywords just appear among the other words that make up the plainly readable text on your Pages or Posts.
In the early days of Google; SEO was more about keyword saturation and sneaky things like "keyword stuffing", embedding "tags" in code, and back-link farming.
This is because Google was asking:
"You tell our search bots what your web pages are all about".
Over the years, this approach started to unfairly favor those who used dishonest methods to boost a web pages ranking. So, Google gradually shifted to a more semantic approach:
"You tell your audience what the web pages are about, and we'll work out the rest"
It's a great solution. Google just wants you to write content for your audience, and then Google will use their intelligent bots and algorithm to scan the natural words, and content structure of your website (and other off-site factors) to determine what a web page (and your business) is all about.
In a nutshell – You write detailed and up to date information related to your services/interests, and have this information structured in a logical and easy to navigate way.
Important! This guide talks a lot about "Keywords" below – which is an important part of Content SEO, however, don't rely on Keywords for your overall SEO strategy (more towards the bottom of post on that).
Then why the need for Keywords?
So, if Google just wants us to write detailed and interesting content that uses pertinent words organically – where do "Keywords" come in?
It's possible to have lots of content on a page, and still fail to use enough "Key Words", for an Artificial Intelligence to piece together exactly what you are trying to spruik.
Ideally our well written content should be enough to inform humans and bots the salient words related to our offering. In reality though, there is an increasing number of websites that Google could show as a search result. Therefore, we really need push the point on what a page is specifically about. Which can be done by repeating some well chosen words, and using these words in various ways on a page.
If you sold a very niche or unique product, like "Yoga Mats for Sea Lions", then you will likely not need to get too finicky over Content SEO. Google will probably have no choice but to show people your site when they search for that thing. However, people selling "Eco-friendly Yoga Mats", have a bit of competition and will want to milk that phrase to climb above others in Search Results.
In other words… Thoughtful structure of content, and keywords goes a long way in helping you outrank a competitor who just "mentions" a particular thing with more frequency. You'll want to use your keywords in more detail, and in more useful ways than your competitors.
Let's talk about "Keyphrases"
The internet has evolved to a point of Keyword saturation. It is very unlikely that you will break into high Search Engine results with a single "Keyword". For example: A new Online Shoe Store will likely not rank well in Google if they just focus on the Keyword "Shoes". That ship has sailed. They will instead need to combine "keywords" into a "keyphrase" (also called Longtail Keywords) – for example "Trendy Casual Shoes for Men". This is a Keyphrase, and forms part of a "Query" that someone might type into Google.
You want to use a phrase on a page that prompts Google to determine that "This website has these few words in that particular order on this page. Surely this is the kind of thing you are looking for".
Tip: The "Keyphrase" is what you type into the "Focus Keyword" field that appears with any good SEO Plugin when editing a page or post.
How to find a good Keyphrase
Use a string of three to four words that relate directly with something you are offering on that particular page. Ensure it is a complete phrase that is likely to be included in a search term. You will also want to ensure that this Keyphrase isn't being overly represented by other websites (not too much competition – although, even if the keyphrase is being used on another website, you can still rank higher if you use that Keyphrase more effectively).
Keyword Research
Before writing, determine which keywords or phrases your target audience might use to search for the topic. Use tools like Google's Keyword Planner, Ubersuggest, or SEMrush to identify relevant keywords with good search volume.
A note about "LSI Keywords"…
Google now takes into account "Latent Semantic Keywords" – this is, you can use words that are similar to each other (like synonyms) on a page ; and Google will take into account that you are using language that re-enforces a pages targeted keyphrase. For example – a keyphrase like "Buy Gumboots in our Store", will be made more relevant if the page also includes the words "Wellies", "Boots", "Shop"
Geographical Keyphrases
Don't use location specific Keywords on your pages (like "Collingwood Hair Salon"). Google already factors in the location of the person searching. And Google should already know your business location – Just be sure that you have claimed your Google Map Listing, and have your Google My Business up to date.
Geographical information is no longer specific to Content SEO – If someone searches for something you offer – in your location, Google factors that all in.
Tip: You should have some Geo-based Schema Markup in your website too (See Rank Math info below)
How to best choose a Keyphrase
Each page on your website should be allocated a separate Keyphrase. Use that keyphrase (and similar phrases as per note regarding LSI above) on the page.
That page on you site should be used to "Target" that Keyphrase, or rather – That page becomes the "Target" of that keyphrase.
Something to consider – every page on your website has the potential to come up in Search Results – so treat every page as a "Landing Page" – that is – every page on your website has the potential to be the top search result for particular search term.
Something else to consider is that there are different types of "Search Intent" (the reason why someone is searching for a keyphrase in Google).
These are usually, but not limited to:
"Informational" searches. eg "Are Yoga Mats Eco-Friendly".
"Comparison (Commercial)" searches. eg "Tree Rubber Yoga Mats vs Cork Yoga Mats".
"Transactional" searches. eg "Buy Natural Yoga Mats Online".
Think about what part of the journey someone is at when using a particular search term; and ensure that the content on the Page satisfies this. For example if someone wants to know "Are Yoga Mats Eco-Friendly", you don't have a page which is all about "BUY OUR MATS NOW!". Instead address their query, and then at the bottom of the content you can offer them solutions.
Where to use your Keyphrases
Page Title:
Use the Keyphrase in the Page Title (what you call the Page at the top of your WordPress Page/Post).
Consider this as the Link that appears at the top of your search result. You should also ensure that it is enticing. eg. Instead of just "Eco-Friendly Yoga Mats", you could use something like "Get your SereneMat! The world's first Eco-Friendly Yoga Mat".
Note: When creating a Menu Item to link to a WordPress Page, it will take on the Page Title. The appearance of the "Navigation Label" can be changed without affecting the actual Page Title. Find this option Under Appearance > Menus > 'Menu Item':

URL:
Use the Keyphrase as a part of the Page URL (This will automatically take on the name of the Title, but can also be changed by using the "Permalink" (URL Slug) edit section on the right of the Page / Post Edit Screen.
Internal & External Linking:
Link to your Page from another Page on your website and always ensure that you use the Keyphrase as the Link text (called Anchor Text).
For example: Snug Site are also Elementor Website Designers
That link above points to another page on our website that uses "Elementor website Designers" as its Keyphrase. This internal linking tells Google that these words are relevant to this other page, enforcing the Keyphrase.
This also applies when linking to your page from other websites or Social Media Pages.
It also help Google build trust in your website if you link to a trusted and relevant recourse on another website.
In general though, you should always aim to use descriptive Anchor Yext (the "clickable words") This , should be relevant to the content it's pointing to. Both search engines and users appreciate clear, descriptive links that set accurate expectations. For instance, instead of using a vague "HERE" link in eg. "Click HERE for More on Our Sustainable Building Methods," – drop the "Click HERE for", and use the text "Sustainable Building Methods." as the link text. This approach ensures users and search engines know what to expect when following the link, aligning the anchor text with the content it leads to.
Further Reading on semrush.com What Is Anchor Text? Best Practices for Optimizing Link Text
Headings:
Use the Keyphrase in the Headings on your Page (in a Heading Tag). Don't overuse Headings on a Page.
Header tags structure content and are vital for SEO:
H1 Tag: Represents the main title; use only one per page. This should be at the top of the page, and essentially tells Google what the page is all about.
H2 Tags: Act as subheaders, dividing sections. Use multiple as needed.
H3 Tags: Break down content within H2 sections. Use multiple based on content structure.
Maintain a logical flow, avoiding skipping levels (e.g., H2 to H5 without H3 and H4). Think of header tags as a pyramid: H1 at the top, followed by H2s, then H3s. They're also crucial for web accessibility, aiding screen reader users. Regularly check header structures for SEO and improved user experience.
I see some people using Headings as a way to make text larger. Don't use Headings in this way, instead make the Paragraph Text Larger using Elementor Style Tab: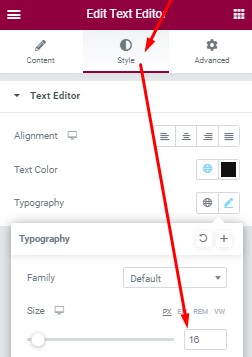 Content:
Use the Keyphrase within the various paragraphs on the page. At least once per 150 words (once every few paragraphs).
Don't use the Keyphrase excessively in the content , as this will have a negative effect on Google Ranking. Don't shoehorn it in – try to keep it natural. Using synonyms (LSI words) helps here.
Your content should be unique, and different to a competitors website. As a rule of thumb, try to make the content on your page better (and longer) than that of a similar page on a competitors website.
The best outcome for content, is that it's written so well, that someone wants to share it with others.
Tip: Ensure your Keyphrase is used in the first Paragraph of your page content (after the heading, preferably in the first sentence).
Meta-Descriptions:
Google will automatically grab the first few sentences of your page and make this the Description of your Page (The bit that appears beneath the Link in Search Results). You can override this by updating your page "Excerpt" (found in the Page or Post edit screen on the right hand side). This aspect of Page SEO is also included as a part of the recommended SEO plugin below. Though meta descriptions don't directly influence rankings, they can improve click-through rates from search results. Write a concise, enticing meta description that summarizes the content and includes your target keyword.
Meta titles and descriptions are pivotal for SEO, acting as a user's first impression in search results. Ensure every page has optimised meta details to prevent search engines from pulling random content. Tools like Rank Math and Yoast can help, but manual review guarantees accuracy. These elements influence the Click Through Rate (CTR); a compelling meta title and description can boost clicks, while a weak one can deter users. Prioritise crafting relevant and enticing meta details for all indexed pages.
Alt Text for Images:
You can also go a step further by ensuring that images placed on this specific page have the Name or alt-text containing the Keyphrase. Alt text enhances web accessibility and image SEO. It provides context for search engines and users with visual impairments. Websites with comprehensive alt text are favored by search engines, emphasizing the importance of inclusivity. Proper alt text improves website accessibility, benefiting both user experience and search rankings.
Structured Data:
There is a way to tell Google what type of content a page has. For example, is it a Recipe? Then you can use the "Recipe Schema" to tell Google that.
I recommend the "Rank Math" Plugin for that. (See below)
Other Considerations
Content of Quality
Ensure that the content you provide on a Page is sincere and informative. Always aim for at least 500+ words, and try to engage your visitors. Give them something to share or bookmark. If a visitor to your website leaves quickly, doesn't click any other links on your site, or doesn't return to your website – this all contributes to your "Bounce Rate".
WordPress SEO Plugins
There are many plugins for WordPress that will assist with getting the most out of Google's Search Algorithms. The best by far is Rank Math. There are others that will assist with Google Rich Snippets (Structured Data), Social Media Integration etc. however, Rank Math's offering is the only plugin you will need for substantial improvements. Read the guide on that linked page after installing the plugin for the basics of how to use.
Sitemaps
Always have a dynamic sitemap submitted through Google Webmaster Tools. Again, the Rank Math Plugin has this covered, it's easy to set up and implement, just ensure you don't forget this.
Optimisation
Page Loading Times can also have a slight affect your overall rank. Check out the Google PageSpeed Insights Tool, and "Analyze" your domain. If you score below 80 in either Mobile or Desktop browsing, then seek methods to make WordPress pages load faster – or seek professional help.
Social Integration
Google places great importance on your mentions on Social Networking Sites. It is assumed that if people across Social Media Sites are talking about you, and sharing links to your website – then you must be a relevant authority on a particular topic or resource. Google also places great importance in your shareable content – if content from your website is being shared across the web, then your content is considered important and relevant.
With Social Integration, remember these three words: Publicise – Join – Share.
Publicise – Ensure you at least have a Business Page on Google Plus and Facebook. Share your content, updates, news on your website and your Social Media Page.
Join – Ensure there is a way for your visitors to join your official Social Media Pages.
Share – Ensure there is a way for your website visitors to share a page on your website with their friends on Social Media. ie. 'Like this' 'Share' buttons embedded on your website.
Duplicate Content
Try not to have duplicate content on your website. A few words or a sentence is fine. However, if you have a paragraph on a page, copied from another page on your site (or another website) you can expect Google to ignore it, and not factor it into your overall Google ranking. Google actively encourages original content by diminishing the reach of sites with repetitive content or content lifted from other websites.
Refine your Keyphrases
Set up and use Google Analytics. Check the stats on your Rankings and Click-thru rate etc. for a chosen Keyphrase. If you are not seeing positive results after a month – consider changing the Keyphrase. This will mean rebuilding the whole page around the new Keyphrase.
Note: If you include a URL change as a part of this update, ensure that you set up a 'Redirect' from the old page to the new Page.
Google is concerned with more than just content
Although content might still be king, Google now places a heavy interest in other "on-site" indicators and "off-site" factors for indexing. In general…
On-Site SEO is website Content SEO (you know all about that now), Taxonomy Structure (the relationship between pages), Website Architecture and Technology, Structured Data/Schema etc. Essentially the stuff that goes into good website design (the stuff done by good website developers)
Off-Site SEO is Backlinks, Authorship, Reputation, News, Social Engagement, Online Advertising, and being in the Google eco-system.
Initial non-content focus should be on your Social Media presence, the mobile-friendliness of your website, and the amount of engagement you have with the outside world. Content and Keyphrases are important to get your foot in the door, but you must also try to provide a dynamic web presence that exudes activity and buzz.
Conclusion
This is just the tip of the iceberg for SEO. Other facets include: Writing articles and social media posts that resonate with your target audience, investigating further your audience profile, developing an editorial time-line, and rigorously measuring your SEO outcomes are very important. If you would like to eke even more out of your websites ranking after following this guide, I can recommend subscribing to a reputable SEO related Blog or Newsletter. Don't buy an old book on SEO – the industry and Google standards/algorithms change often; and new tools are always appearing. Using an "old-school" SEO method could easily be of detriment to your Google Ranking.
This page will be updated if any standards or methods change. I hope you enjoyed this Guide.