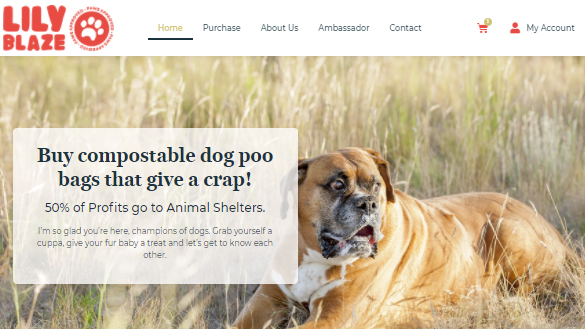 Dog Poo Bags that give a crap!
We love what Lily Blaze is doing! Giving half of their profits to Dog Shelters, means that their Dog Poo bags aren't just for humans, but doing great things for dogs too!
We built Lily Blaze a clean, modern, easy to navigate, easy to buy stuff Elementor website. With a powerful Affiliate Program solution. The website is also benefiting from our WordPress Maintenance Service.
Key Features:
/ Subscription based products
/ Non-standard subscription intervals
/ Great Responsive Design
/ Bespoke Affiliate / Referral System
/ Interactive Shelter Listing Google Map
From our Elementor Experts Listing...
"This website sells bags for cleaning dog poo
Donating some profits to a worthy cause
We love their idea, and all that they do
Giving a helping hand to those with paws
Needing solutions for e-commerce things
like referral systems to spread the love
And a subscription tool and all that it brings
Meant using Woocommerce for those things above
But websites need more than banality
To attract people and dogs of all kinds
For injecting friendly personality
is where Elementor Pro really shines
Now there's a website improving dogs lives
And benefiting all whenever it thrives"