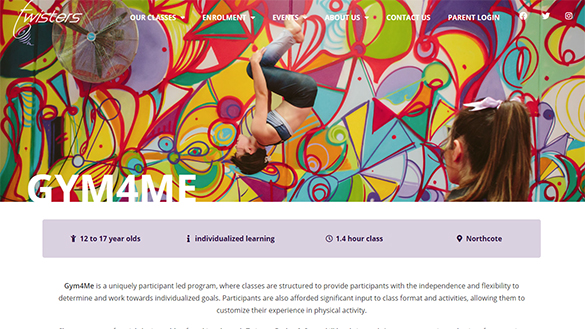 Helping kids to Grow Through Movement
This was a WordPress website redesign project. The aim to blend the vibe of the business into the website. Twisters Gym is fun, colorful, and wholesome – and this is expressed in the design of the site. We also wanted to ensure that mobile users had a pleasant experience, and could find information more easily. Feedback from users of the site are that this is the best local Gymnastics website by far.
Key Features:
/ Bold and fun web design
/ Elementor Page Builder
/ Detailed Employment Form

From our Elementor Experts Listing...
"This was a WordPress website redesign project. The aim to blend the vibe of the business into the website. Twisters Gym is fun, colorful, and wholesome – and this is expressed in the design of the site. We also wanted to ensure that mobile users had a pleasant experience, and could find information more easily. Feedback from users of the site are that this is the best local Gymnastics website by far."